At Sony, our vision is to create a sustainable future for all. We believe in the importance of engaging and inspiring our community and the next generation by presenting equal opportunities for education and raising awareness about career pathways. Since 2012, we have worked tirelessly with local and national educational bodies to develop and deliver several educational programmes at our site, welcoming over 25,000 children of all ages since the start of this journey.
Our programmes are designed in alignment with the UK and Welsh curriculum and aim to give pupils a hands-on experience of two exciting industries very close to our heart – manufacturing and the creative arts. The programmes are delivered on our premises where everyone attending can experience a modern manufacturing environment, meet our team, and learn specific skills within our onsite classroom. The programmes are free to attend and are delivered by our dedicated team with the support of professional educators.
Interested to join? Find out more below and contact our team at ukteceducationalvisits@sony.com.
Manufacturing Industry Experience Visit
10:00am – 12:00pm
This programme is suitable for all ages and designed to give pupils an introduction to the world of modern manufacturing.
During the visit, pupils will learn about the history of technology and how the different parts of a global corporation like Sony come together to deliver products and add value to people around the world. They will experience a tour of the factory, seeing how different products are made in real-time. Finally, they will have the opportunity to meet and speak to our team members about what it takes to build a successful career.
This is offered to all levels of education, from primary and comprehensive schools to colleges and universities.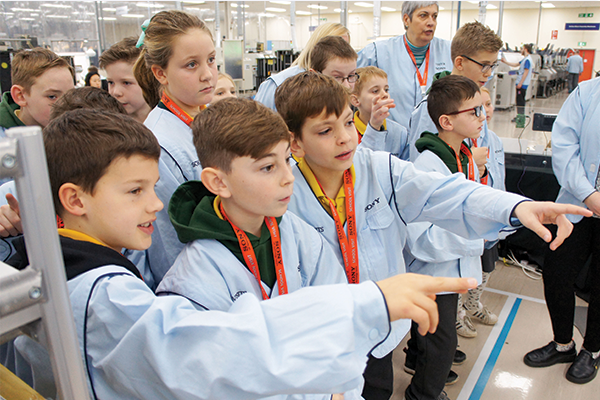 Film In A Day
9:45am – 2:15PM
This programme is aimed at students in Years 5 and 6 of education and focuses on developing various creative skills. Using Sony Professional Broadcast Technology and green screens, the pupils will experience the step-by-step process of creating a short film on a topic selected by the school.
First, the children will learn about the different roles within the media industry and their importance. The group will then partake in writing a script, directing, acting, and/or presenting in front of a camera, overseeing camera work, audio, lights, wardrobe, and makeup – fully immersing themselves in the film production process.
At the end, the school will receive the fully edited film created during the session for their perusal.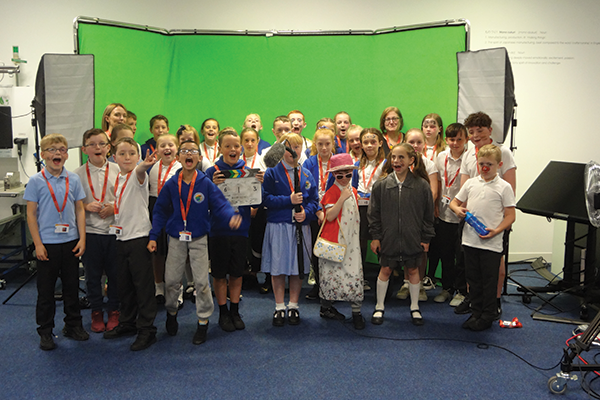 Learn 2 Code
9:45am – 2:15pm, Mondays & Tuesdays
We offer a one-day coding workshop that covers a variety of different areas and can be tailored to the abilities of the school attending. This is aimed at students in years 4, 5, and 6 of education. The workshops are developed and led by Steven Lewis, a fully qualified coding instructor. When asked about his experience running the classes, he said:
"I've found the workshops give the children an insight into their own creativity by using a variety of platforms to teach STEM skills outside of the classroom environment. The programme uses games such as Minecraft to introduce the pupils to various programming languages including Scratch and Python, which they would not normally encounter as part of the school curriculum."
Please note: prior to the programme, all pupils are required to complete a questionnaire to determine their competency level. This will allow the instructor to tailor the session to the specific needs of the group.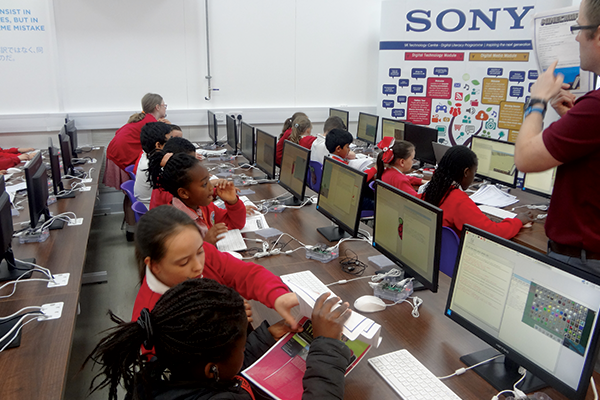 EESW Girls Into STEM Programme
The Engineering Education Scheme Wales (EESW) is a non-profit, educational charity which runs programmes across Wales to inspire and motivate young people to choose a career in Science, Technology, Engineering and Mathematics (STEM).
We are proud to have been a partner to EESW for many years, supporting their Girls Into STEM programme which aims to break down stereotypes regarding the role of women in STEM industries. As part of this programme, students will experience the Sony operations in real-time, learning about the exciting reality of 21st-century manufacturing, and be introduced to the variety of career paths available in the industry.
They will also meet the amazing women on our team who will share their own experiences of working within an industry which is perceived as traditionally male-dominated.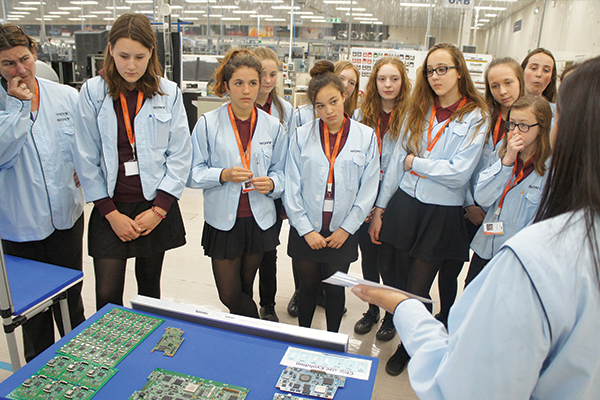 Forest Schools
Working in partnership with Tanio, we have created a programme that engages children using Forest Arts as a teaching method, with wellbeing in mind. The children take part in activities such as mindfulness team games, building bug hotels, emotion wood cookies, and forest crowns to name but a few. Through this programme, students will have the opportunity to develop their creative skills, as well as their knowledge about nature, biodiversity, and sustainability.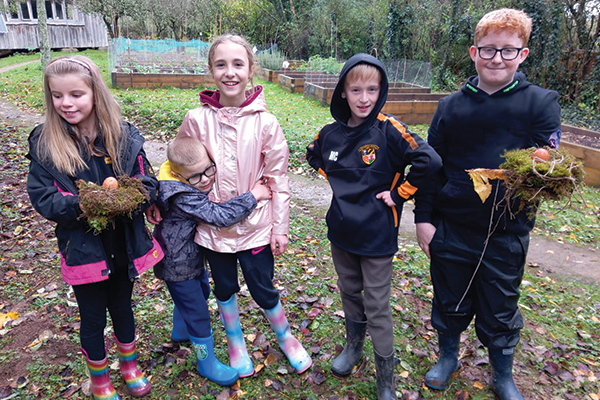 Frequently Asked Questions (FAQs):
Yes! We do not charge a fee for our programmes. However, you may need to cover other expenses related to the trip such as travel, etc.
Our visits are available Monday through Thursday at various times as indicated under each programme outline. Please discuss availability with our team as the calendar tends to be booked up far in advance.
Unfortunately, we do not accept individual bookings. If you'd like your child to attend one of our events, please discuss this opportunity with their school. They can then organise a visit to our site.
We aim to keep each visit to a maximum of 30 pupils to ensure each child makes the most of the experience. However, please discuss your specific request with our team and we can advise on the most suitable solution.
Yes! However, please ensure to discuss your request directly with our team. Our event starting times are usually pre-set in the morning, so you may need to allow enough time to travel to our premises.
No, all required items will be provided by our team upon arrival. Please note, all visits are delivered following a thorough risk assessment. At the time of booking, our team will advise you on everything you need to know ahead of visiting our site.
Our commitment to Sustainability
Our vision is to create a sustainable future for all. To achieve that, we established four pillars of activities to address important topics in our modern world.
How can we help?
If you are looking for a Contract Electronics Manufacturing partner, submit your enquiry today and a member of our team will be in touch shortly.
Are you experiencing an issue with your Sony product? Tell us about it and our team of expert technicians will be in touch.
Are you looking for office space with fantastic amenities and 24/7 security? Enquire today with your requirements and our team will be in touch with information about our availability.
We are a socially aware business which seeks to support our local community You can submit your request today using the form on the right. Please note that we can only support requests within a 30 mile radius from our facility. Our committee reviews requests on a monthly basis, so please allow a few weeks for our team to respond.
To arrange a visit for your school as a part of our educational programs, please submit your inquiry today. Our committed team will respond with guidance regarding availability within a week.
Ready to join the Sony team? Please submit your CV and cover letter today using the form on the right and our recruitment team will be in touch.