APPLICATIONS FOR OUR 2024 APPRENTICESHIP SCHEME ARE NOW OPEN
Our apprenticeship programme is a 3 to 4-year commitment (depending on your discipline), during which you will learn and develop various skills and knowledge through on-site work placements within a manufacturing environment. Throughout the programme, you will also study for nationally recognised qualifications at Cardiff and Vale College or Bridgend College in South Wales.
This is an excellent opportunity for anyone wanting to join a fast-paced, exciting working environment while developing their skills and qualifications further.
The programme is designed to provide each apprentice with a combination of work experience and learning opportunities across the business each year.
What we can offer
The opportunity to work towards a Higher Apprenticeship Qualification such as HNC/HND during your time here, among other role-specific qualifications
Access to discounted Sony products
Generous company pension scheme offering employer contributions of up to 14%
The potential to receive a target-related annual bonus
A dedicated on-site classroom for online learning
Complimentary access to our on-site gym facility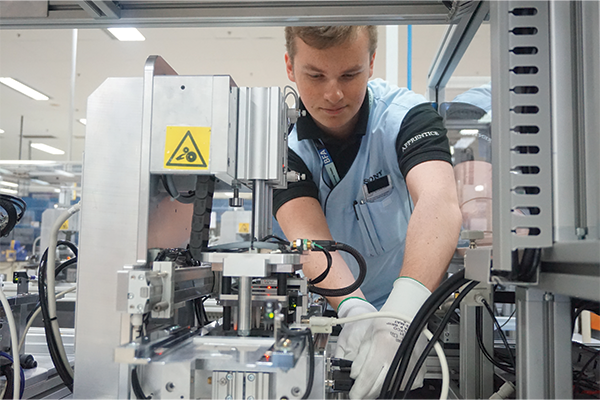 Application criteria
A minimum of 5 GCSEs, including a B or above in Mathematics, and Cs or above in Science and English. Other relevant subjects such as Business Studies, Design & Technology, Information Technology or Engineering would be an advantage.
For individuals with higher qualifications and/or experience, make sure to list all relevant knowledge in your CV and cover letter.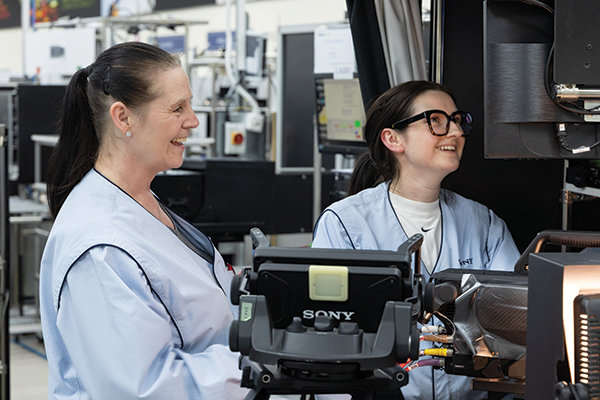 Tips for a successful application
Ensure your CV is up-to-date with details of the qualifications you are currently studying towards, including full titles and levels. You may include predicted grades if you're yet to complete your studies.
Relevant work experience completed through school, college or with a previous employer would be beneficial, although it is not essential.
Showing genuine interest and enthusiasm to undertake a practical, hands-on role in a manufacturing environment will be a big plus!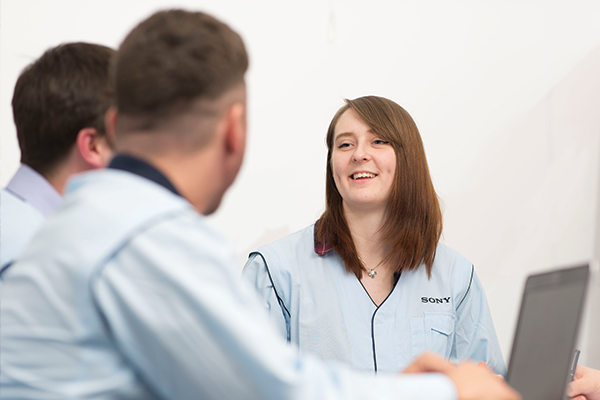 Apprenticeship application process
Complete our application form (available for download during the application period) and email it to SonyAcademyWales@Sony.com, along with your CV and a one-page cover letter.
*Please ensure to note which area from the above opportunities you are interested in applying for.
**Please also note that due to the high volume of applicants, we won't be able to contact those who have been unsuccessful at this stage.
Applicants who have been successful in the first stage of the process will be invited to an on-site open-day event which will include a tour of our manufacturing facility and an interview, followed by a more formal assessment of their knowledge. This may involve a knowledge test or joining a team task alongside other candidates. The details of the assessment vary each year depending on the disciplines we offer, but you will be informed in advance about what they will entail.
If you have cleared the first two stages successfully, you will be invited to a final stage interview with our HR team and our recruiting managers. At this stage, you will meet people you will likely work with in the future. This is your opportunity to tell us all about yourself and why you think Sony UK TEC is a good fit for you. Before you attend, do your best to learn about what we do here in South Wales, and let us know where you think you'll make the greatest impact.
We'll endeavour to contact you within two weeks of your interview to inform you of your success. During this time, if you have been successful we will also confirm your start date.
*Please note we will not be contacting the unsuccessful candidates.
How can we help?
If you are looking for a Contract Electronics Manufacturing partner, submit your enquiry today and a member of our team will be in touch shortly.
Are you experiencing an issue with your Sony product? Tell us about it and our team of expert technicians will be in touch.
Are you looking for office space with fantastic amenities and 24/7 security? Enquire today with your requirements and our team will be in touch with information about our availability.
We are a socially aware business which seeks to support our local community You can submit your request today using the form on the right. Please note that we can only support requests within a 30 mile radius from our facility. Our committee reviews requests on a monthly basis, so please allow a few weeks for our team to respond.
To arrange a visit for your school as a part of our educational programs, please submit your inquiry today. Our committed team will respond with guidance regarding availability within a week.
Ready to join the Sony team? Please submit your CV and cover letter today using the form on the right and our recruitment team will be in touch.