This year, on 8th September 2022, HM Queen Elizabeth II, Britain's longest-reigning monarch sadly passed away. Sony's UK Technology Centre (UK TEC) would therefore like to send sincere condolences to the British Royal family and join the British people and members of the Commonwealth in mourning the loss of our beloved Queen.
Her Majesty Queen Elizabeth II at the Sony Pencoed Opening Ceremony in 1993, alongside Sony co-founder, Akio Morita
UK TEC's Pencoed manufacturing facility was opened by Her Majesty Queen Elizabeth II in 1993.
Our rich Sony connections with the late Queen and the British Royal family span five decades with the original manufacturing site in Bridgend being opened by His Royal Highness, King Charles III (then Prince of Wales) in 1974.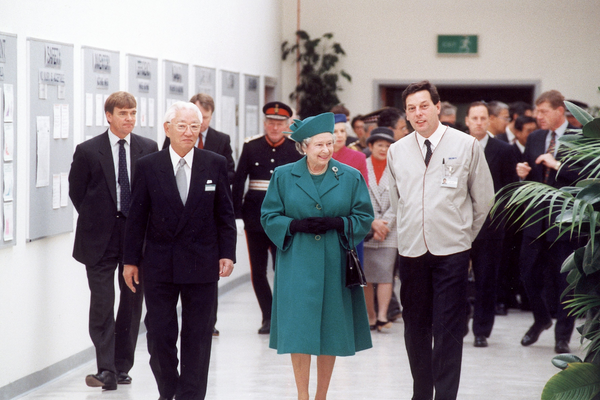 Steve Dalton OBE, Managing Director of UK TEC commemorating HM Queen Elizabeth II:
"It was with extreme sadness the breaking news of the unfortunate passing away of HM Queen Elizabeth II.
"We at Sony have had a very close relationship with the Royal Family from the very beginning of our operations in the UK over 50 years ago. Following a conversation between HRH Prince Charles, Prince of Wales (at that time) and now, King Charles III, with one of Sony's Founders, the late Akio Morita KBE, in Japan in 1970, the now, King Charles III officially opened our Bridgend facility in 1974 and returned to our Pencoed site in 2014 to celebrate 40 years of Sony's Wales operations and 20 years of the Pencoed facility.
"HM Queen Elizabeth II visited and officially opened our Pencoed operations in 1993, charming many who were fortunate enough to greet her on the tour route. Culminating in an opening ceremony with several hundreds of our Team Players and many dignitaries in attendance to witness a dazzling light show. A day many of us lucky to be there will never forget.
"I, personally, had the wonderful and fortunate opportunity to meet HM the Queen at a reception in Buckingham Palace, along with her late husband HRH Prince Philip, Duke of Edinburgh. It was notable that everyone received the same warm and welcoming attention as if you were a dear friend.
"We send our sincere condolences to all of the Royal Family at this time of mourning."
Kenichiro Yoshida, Chairman, President and CEO, Sony Group Corporation also sent his condolences in the following words:
"The S​ony Group and its group companies, including Sony Europe, extend their heartfelt condolences regarding the passing of Her Majesty Queen Elizabeth II.
"Sony has been operating in the UK for over 50 years and it was a great honour for us to have Her Majesty visit our UK Technology Centre in Pencoed, Wales in 1993.
"We would like to express our deepest gratitude for the Queen's support over the years and offer our sincere condolences to the Royal Family and the people of the United Kingdom during this time." 
How can we help?
If you are looking for a Contract Electronics Manufacturing partner, submit your enquiry today and a member of our team will be in touch shortly.
Are you experiencing an issue with your Sony product? Tell us about it and our team of expert technicians will be in touch.
Are you looking for office space with fantastic amenities and 24/7 security? Enquire today with your requirements and our team will be in touch with information about our availability.
We are a socially aware business which seeks to support our local community You can submit your request today using the form on the right. Please note that we can only support requests within a 30 mile radius from our facility. Our committee reviews requests on a monthly basis, so please allow a few weeks for our team to respond.
To arrange a visit for your school as a part of our educational programs, please submit your inquiry today. Our committed team will respond with guidance regarding availability within a week.
Ready to join the Sony team? Please submit your CV and cover letter today using the form on the right and our recruitment team will be in touch.