Dr. Christopher Hood, Reader in Japanese Studies, and Dr. Miho Inaba, Senior Lecturer in Japanese Language in collaboration with Sony UK Technology Centre (UK TEC), successfully hosted the highly anticipated Japanese Speech Contest for Cardiff University students. The event took place within Cardiff Universities' School of Modern Languages on Wednesday, June 14th.
Continuing their tradition of supporting and headlining such notable contests, Sony UK TEC played an integral role in the event, including participation in the judging process. Representatives from UK TEC, namely Joe Whaley, Commercial Manager, Chiaki Ide, Learning & Development Coordinator, and Ryousuke Nishiyama, Procurement Officer, joined the panel.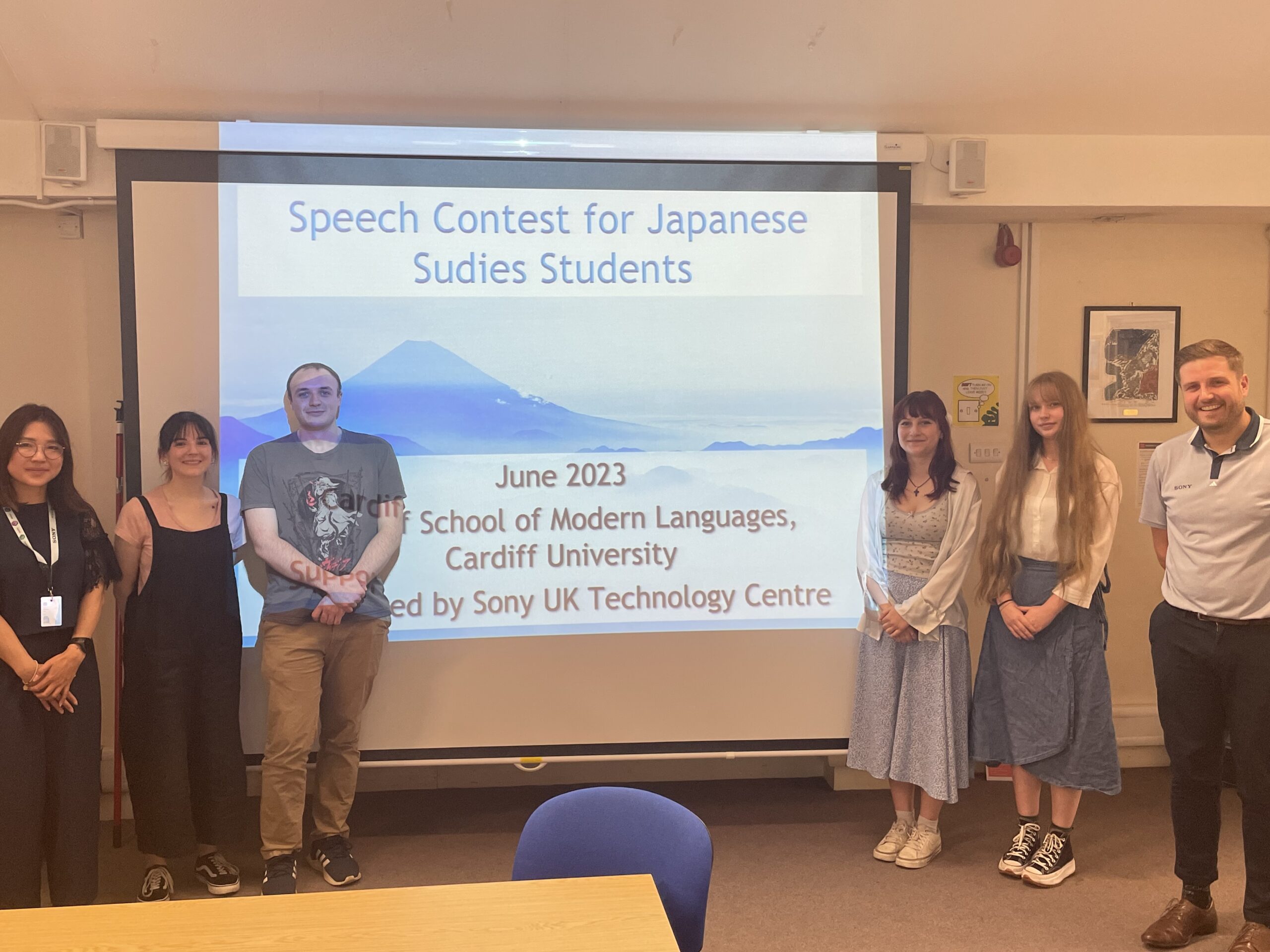 The contest promised exciting rewards, and after an impressive display of linguistic prowess and cultural appreciation, the coveted First Prize was secured by Alex Heuvel for a speech on Snowsports Tourism in Japan. As part of this accolade, Alex will be awarded a work placement at Sony UK TEC, providing an invaluable opportunity for professional growth, along with a Sony product. Additionally, the contest recognised Amy Harris as the deserving Runner Up, who also received an exciting Sony product as a testament to their speech on Japan's Shrines and Temples. Congratulations to both winners for their exceptional performances and contributions to the contest!
In addition to acknowledging the outstanding contributions of Alex Heuvel and Amy Harris, it is also essential to recognise the incredible talent and dedication of all the contestants who participated in the Japanese Speech Contest. Molly Peart-Mills, Ling Fok, and Amy Gordon-Smith showcased the immense progress they have made in their Japanese language journey. Each contestant demonstrated commendable courage and commitment, making the contest a truly memorable and inspiring event.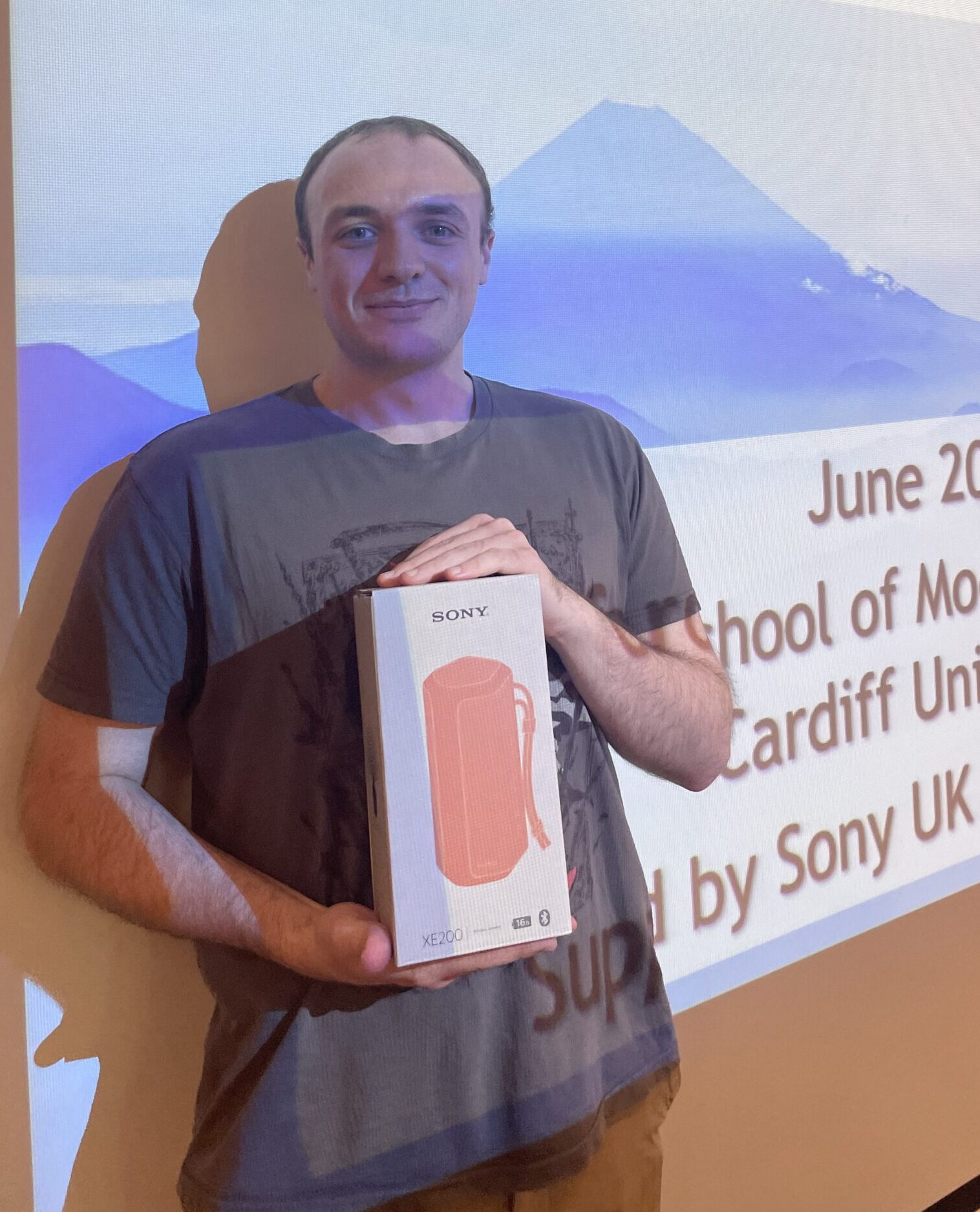 The Japanese Speech Contest is a great platform for students to showcase their presentation skills, allowing the judges to observe the unique personalities of the participants. As a business that prioritises values and behaviours over qualifications, Sony UK TEC finds a strong alignment with this contest. This initiative not only celebrates knowledge and language learning but also fosters a deep appreciation for foreign cultures—a value deeply rooted in the Japanese heritage of Sony. The competition welcomed students of various abilities, with both native speakers and local representatives in attendance.
In light of the pandemic, this event holds special significance as the first of its kind in recent times. Sony UK Technology Centre takes great pride in supporting and sponsoring this memorable occasion, which symbolises a return to normalcy and the resilience of the academic community.
Dr. Christopher Hood, expressed his gratitude, stating, "We are immensely grateful to Sony UK TEC for their unwavering support in organising this prestigious Japanese Speech Contest. This event not only encourages language proficiency but also promotes cultural diversity and understanding among our students. It is truly an enriching experience."
Gerald Kelly, Professional Services Director at Sony UK TEC, emphasised the significance of their involvement in bridging the gap between Wales and Japan. "As a company deeply rooted in Wales, Sony UK TEC strives to create meaningful connections with our local community while honouring our Japanese heritage. This event exemplifies our commitment to fostering cultural exchange and cooperation."
Sony UK TEC and Cardiff University look forward to more successful Japanese Speech Contests in the future, celebrating language learning, cultural appreciation, and the remarkable achievements of participating students.
How can we help?
If you are looking for a Contract Electronics Manufacturing partner, submit your enquiry today and a member of our team will be in touch shortly.
Are you experiencing an issue with your Sony product? Tell us about it and our team of expert technicians will be in touch.
Are you looking for office space with fantastic amenities and 24/7 security? Enquire today with your requirements and our team will be in touch with information about our availability.
We are a socially aware business which seeks to support our local community You can submit your request today using the form on the right. Please note that we can only support requests within a 30 mile radius from our facility. Our committee reviews requests on a monthly basis, so please allow a few weeks for our team to respond.
To arrange a visit for your school as a part of our educational programs, please submit your inquiry today. Our committed team will respond with guidance regarding availability within a week.
Ready to join the Sony team? Please submit your CV and cover letter today using the form on the right and our recruitment team will be in touch.