At this year's National Make UK Manufacturing Awards, Sony Europe B.V.'s UK Technology Centre (UK TEC) was crowned winner of two prestigious awards for Developing Future Talent and Innovation. Also marked out for praise on the evening was Apprentice Rising Star finalist Scott Roberts, and Thomas Davies who was highly commended in the Apprentice Endeavour Award.
Over 260 attendees representing the very best of UK Manufacturing were joined by compere Jason Bradbury to highlight the resilience, determination, and ingenuity of the UK's manufacturing community within which, UK TEC remains devoted to nurturing undeniable talent.
Developing Future Talent
Sony UK TEC'S award win for Developing Future Talent recognised its dedication to promoting diversity, developing talent, building skills amongst its employees, and increasing the knowledge of engineering and manufacturing careers within the community.
During 2021 alone, the Pencoed-based facility onboarded 8 apprentices and 4 graduates. An additional 2 graduates were recently onboarded, demonstrating the team's focus on nurturing talent and inspiring future leaders to explore and push the boundaries of the many exciting technological opportunities that lay ahead.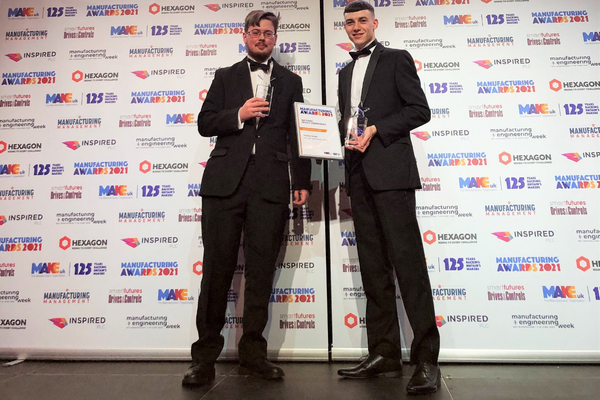 Within the ceremony, Sony Technology Centre's Advanced Manufacturing Research Operations Centre (AMROC) apprentice, Scott Roberts was a finalist in the Rising Star category and was recognised for seizing the training and development opportunities presented to him. Scott's experience demonstrated a significant contribution to support business activities and his potential for the remainder of the programme.
And finally, Thomas Davies was Highly Commended in the Apprentice Endeavour award for his hard work and dedication despite adverse circumstances. Tom overcame many personal challenges throughout his apprenticeship, but despite this, he continues to work hard and is dedicated to achieving the best he can. Tom suffered from seizures in and outside of work, which had a major impact on him both personally and professionally. Tom embraces his role positively and always approaches every task/problem with enthusiasm and confidence, treating every challenge as an opportunity to learn. The award acknowledged his determination to participate in the programme to his highest ability and highlighted the progress achieved on his journey.
As a company, UK TEC is focused on improving the workforce's skills and addressing succession concerns regarding current employees and the UK skills shortage in Science, Technology, Engineering, Mathematics, and creative subjects. Over the years, they have developed a series of programmes targeted at different age groups, from schools to universities and adults, accounting for the way information is presented, the amount of technical detail, and the language used in working within their local communities in South Wales. To date, more than 20,000 learners have engaged, and the company's own workforce is trained to be mentors to their apprentices and graduates.
Innovation
The Innovation award, on the other hand, celebrated the innovations executed through new products, processes, markets, and business models, which have all led to greater productivity, efficiency, and business growth, within the last three years. Through solid team effort and engagement, Sony UK TEC continues to deliver ambitious goals, e.g., ending 2021 with a 30% capacity increase.
Sony UK TEC is particularly proud of its role in developing both specialists and leaders for the next generation, which support its ever-diversifying operation. It's an amazing time to be part of the Sony family, the ability to adapt, innovate and embrace new technologies has never been so prominent given the challenges faced over the past two years. This is testimony to the agile, highly skilled, and committed workforce at Sony Pencoed.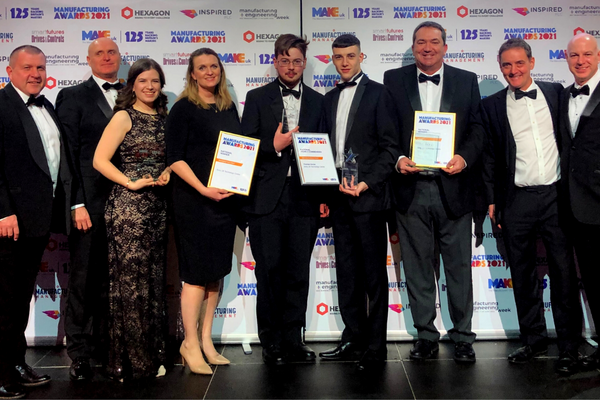 Sony UK TEC Managing Director, Steve Dalton OBE said: "We are delighted to have had such great success at these prestigious industry awards. Our apprentices drive creativity, originality, and growth across the company, so it is only right they get the recognition they deserve.
"It was an incredibly inspiring event and we're proud to be part of such an amazing industry. It is thanks to the passion of our Team Players which made these wins possible, and we remain committed to seeking and developing talent to become the next generation of innovators.
"It has been a pleasure for us to play a role in this year's awards to help highlight the invaluable work of Wales' industry-leading manufacturing sector."
How can we help?
If you are looking for a Contract Electronics Manufacturing partner, submit your enquiry today and a member of our team will be in touch shortly.
Are you experiencing an issue with your Sony product? Tell us about it and our team of expert technicians will be in touch.
Are you looking for office space with fantastic amenities and 24/7 security? Enquire today with your requirements and our team will be in touch with information about our availability.
We are a socially aware business which seeks to support our local community You can submit your request today using the form on the right. Please note that we can only support requests within a 30 mile radius from our facility. Our committee reviews requests on a monthly basis, so please allow a few weeks for our team to respond.
To arrange a visit for your school as a part of our educational programs, please submit your inquiry today. Our committed team will respond with guidance regarding availability within a week.
Ready to join the Sony team? Please submit your CV and cover letter today using the form on the right and our recruitment team will be in touch.