On Friday 13th May, one of Wales' leading manufacturing facilities hosted its annual Charity Football Day at Cardiff City Stadium after a two-year hiatus as a result of the COVID-19 pandemic. The event, which comprised a Swansea Vs Cardiff City football game and family-friendly activities aimed to raise a substantial amount in aid of Ukraine Relief.
The event collected over £3,400 in total in aid of the chosen charity and Sony UK Technology Centre (UK TEC) agreed to match the funds raised to further support the cause.
Throughout the event, a plethora of high-end Sony prizes were raffled off, including a PS5, 43" BRAVIA TV, a £300 Red Letter Days voucher, and four theatre tickets for School of Rock The Musical performed at Wales Millennium Centre.
The Pencoed based facility takes great pleasure in giving back and supporting all those tirelessly working to bring relief to terrified and displaced communities who have suffered as a result of the ongoing conflict and humanitarian crisis.
As part of its Corporate Social Responsibility (CSR) policy, Sony UK TEC partakes in multiple charitable initiatives, including internal fundraising activities and direct donations made within the local community.
During the summer of 2021, UK TEC supported the City Hospice 'Forever Flowers Campaign', where they joined members of the public in remembering and cherishing the lives of family members, and friends tragically lost during the pandemic and more recently, the team supported 'The Crisp Packet Project', where crisp packets consumed at the facility were sent away to be transformed into insulated and waterproof blankets and sleeping bags for the homeless.
Earlier this year, Sony UK TEC hosted the return of the High Sheriff Mid Glamorgan Youth Community Awards, aimed at celebrating the young people in Mid Glamorgan for making outstanding contributions either at home or in the community.
Sony UK Technology Centre Professional Services Director, Gerald Kelly, said: "We are delighted that our annual football day is back after a two-year break. Sony UK TEC is a community-focused facility which consistently aims to work for the benefit of the people in need. We are so proud of the fantastic efforts put in by our team over the last two years in aid of such fantastic charities and our local community.
"Dealing with COVID-19 has been extremely difficult for everyone, and we are so pleased that we have been able to provide support and give back to causes that many of us hold close to our hearts."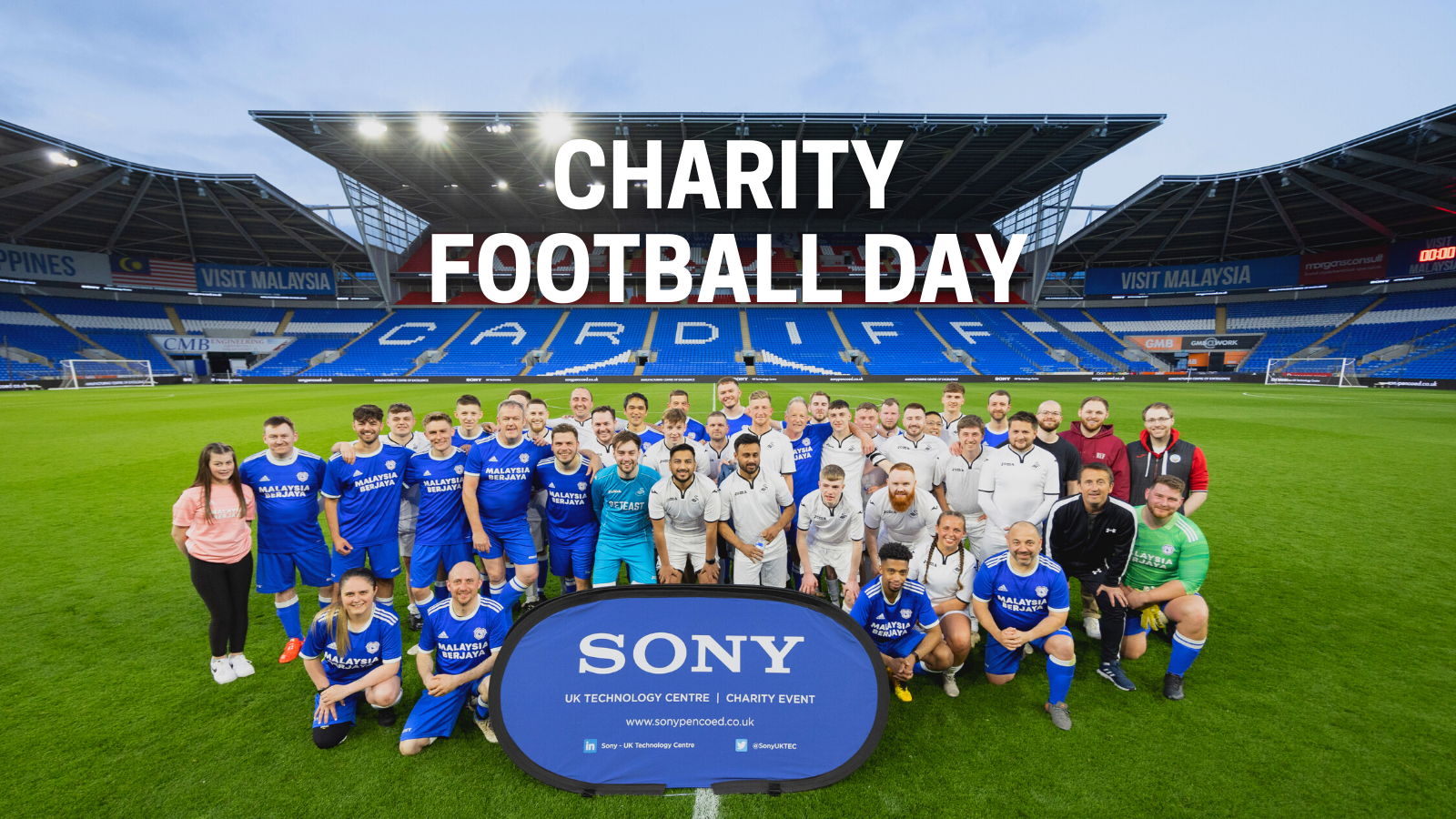 The Charity Football Day event is part of Sony UK TEC's continued commitment to supporting and enhancing communities, and the leading brand plan to hold other events and initiatives, annually, to continue raising funds for a variety of local and global charities.
How can we help?
If you are looking for a Contract Electronics Manufacturing partner, submit your enquiry today and a member of our team will be in touch shortly.
Are you experiencing an issue with your Sony product? Tell us about it and our team of expert technicians will be in touch.
Are you looking for office space with fantastic amenities and 24/7 security? Enquire today with your requirements and our team will be in touch with information about our availability.
We are a socially aware business which seeks to support our local community You can submit your request today using the form on the right. Please note that we can only support requests within a 30 mile radius from our facility. Our committee reviews requests on a monthly basis, so please allow a few weeks for our team to respond.
To arrange a visit for your school as a part of our educational programs, please submit your inquiry today. Our committed team will respond with guidance regarding availability within a week.
Ready to join the Sony team? Please submit your CV and cover letter today using the form on the right and our recruitment team will be in touch.